Prototype 10 - Speckled lacquer BP
Olive-brown version


This is probably a test-market color in this speckled olive-brown lacquer, likely to be limited to the local French market. While this is just the BP, there is likely to exist the FP in a matching color.
Update of 10-31-2001
I am checking into a comment on this pen. It appears that these speckled lacquer pens only came as a BP and Parker promoted them as members of the 35 family line, not 75. I am trying to confirm this. If you know or have Parker documents, please email me.
So far as of October 2007 I have not yet found any documentation supporting this claim.
Update of 07-23-2005 —
Light Grey version

Update of 12-18-2005
Brown version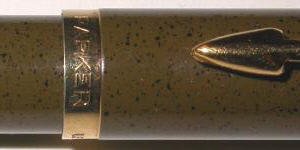 Maroon version



| | | |
| --- | --- | --- |
| | | The production date code TE indicates this pen was produced during 1Q1985. |
Update of 09-30-2007
Dark grey version


| | |
| --- | --- |
| | The production date code TE indicates this pen was produced during 1Q1985. |
Blue version


| | |
| --- | --- |
| | The production date code TE indicates this pen was produced during 1Q1985. |