Écorce, 1968 - ?
| | |
| --- | --- |
| Pattern | Basketweave or bark-like pattern. Click here for detail view. |
| Material | Goldplate and silverplate over brass |
| Price | |
Notes
The word "écorce" is French for "bark".
There was a Boucheron Écorce made in sterling silver with this designation but it looks like a very different tree was used as the sample bark pattern.

Update of 06-30-2009
Here is the BP version of the Boucheron bark-like pattern.




One thing different is that this BP is 100% Parker without any Boucheron name inscribed on the thin cap band as can be seen below. The implication is that this pen was also sold as a Parker.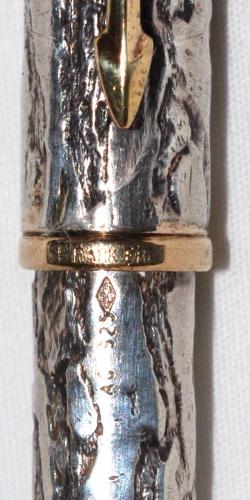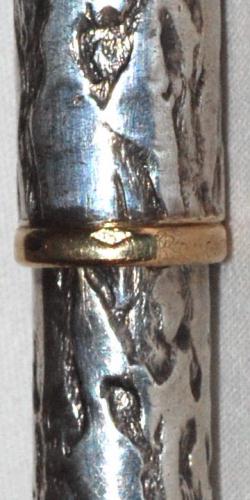 Also note the content as inscribed on the barrel with AG 925 and the Parker diamond logo. Ag is the chemical symbol for silver and 925 represents the 92.5% content for sterling silver.
The Boucheron name is very faint but you can just barely make it out in the right-most picture above. You can see the Bouc towards the right end of the cap band ring, with the B scripted like the Greek beta character.
Another interesting item is the (serial?) number 4863 on the tassie, along with the diamond Parker logo and a hallmark that appears to be the eagle's head to indicate it is 18K gold. Perhaps it is not an eagle's head since I find it very odd a solid 18K gold tassie would be placed on a sterling silver pen.