Flammé, 1968 - ?
Pattern

Short, staggered, repeating lines making a flame-like appearance. Click here for detail view.

Material

Silverplate and goldplate over brass

Availability (model #)

In silverplate: Fountain pen (#554-100)

In goldplate

Price

???
Notes
Member of the Place Vendôme series. Silverplate version was introduced in the US in 1973.
Some were inscribed with the plating thickness in microns.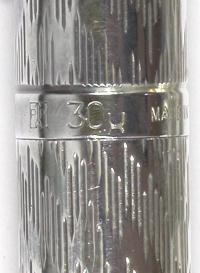 In most cases, the trim matched the plating but there were also some silverplated models that had goldplated trim.

Some of the early silverplated and goldplated Flammé oxidized, but can be easily removed with a jewelry polishing cloth. Once polished, I especially like the goldplated version which has a nice warm tone that is almost a rose gold color.

This can be see here as compared to the yellow gold color of later models.


Courtesy of John Mottishaw. Used with permission.