Contact information

Graphic designed by & Copyright ©2002
Pier Gustafson

Email:
LTW@Parker75.com

Phone:
+1 586-275-7507

FAX:
+1 248-352-6700

Address:
44648 Mound Rd #812
Sterling Hts MI 48314
USA
About me
First and foremost, I am not a professional pen dealer so I do not make a living from the sale of pens. This whole thing is only a hobby to me, one that I enjoy mostly because of the like-minded people I meet via this website and by attending pen shows and my local club meetings.
I was trained as an engineer and my educational credentials are in the area of energy conversion. I received the following degrees:
| | |
| --- | --- |
| | Bachelors of Science from Princeton University, 1976. |
| | Masters of Science from the Massachusetts Institute of Technology, 1978. |
Professionally my work as an engineer is now a distant memory as I no longer develop software for my company. Although I am still actively involved in product development, my work today is primarily focused on sales and marketing for my company's line of antispam email filtering products for corporate use.
| | |
| --- | --- |
| | Praetor is a product that includes many advanced spam filtering technology capable of solving the spam problem by filtering 94+% of all spam and making very few mistakes on the order of 1 in 1,000 messages. Its distinction is the Rules Wizard (a la Microsoft Outlook) that gives email administrators the ability to create custom rules that perform specific filtering for inappropriate (non-spam) content. |
| | XE-Filter is a much simpler product for use by small-to-medium sized organizations who don't have a full-time email administrator on staff. Its primary function is to filter at the SMTP protocol level to prevent message reception from (selectable) banned countries, blacklisted mail servers and senders. After all, if you don't have any legitimate business from Antarctica why receive email from there? This tactic has proven to be amazingly simple yet accurate, and our customers' filtering average is over at 86% with a few dozen approaching 95%! |
Picture? Well, not exactly, but I like this one drawn by cartoonist Dan Carter at the Michigan Pen Show in 2004.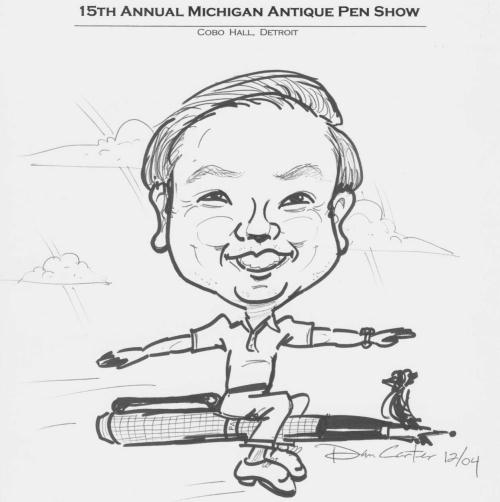 After all these years, suffice it to say that I'm still flying high on 75s. :-)