Laque series, 1979 - 1993
Tortoiseshell or Ecaille (?), 1979 - 1983

Woodgrain, 1979 - 1983
Jasper red quartz, 1979 - 1983

Lapis lazuli, 1979 - 1983

Thuya, 1981 - 1990
Burgundy, 1983 - ?

Black, 1987 - 1993

Grey, 1984 - 1985 — maybe prototype or test market color

Midnight blue, date unknown — maybe prototype or test market color


Pattern

Lacquer with variety of different colors

Material

Lacquer over brass cap and barrel

Availability

Fountain pen and Ball pen

Price

1985: FP - $65; RB - $50; BP - $40; Pcl - $40 (in brown only)
1990: FP - $100; BP - $60; no RB or Pcl offered (in brown and black only)
1992: FP - $100, BP - $60
Notes
During the first two years of production, the lacquer pens have the distinction of being signed with the Chinese characters that is the phonetic transliteration of the Parker name pronounced "pai" and "kuh". These can be found on the first production of lacquer series: tortoiseshell, woodgrain, jasper red, malachite green, and the blue from the lapis lazuli stone.
The second series converged the woodgrain and tortoiseshell into the thuya brown.
Lacquer colors vary quite a bit. It is quite likely that different production runs produced two pens of a particular color to appear quite different. Click here to view a comparison. Even the trim had differences as shown with these cap bands of the signed red laque BP.
Midnight blue pens also came with chrome trim.
There is some confusion over the brown lacques - tortoiseshell, woodgrain, and thuya. They all have a dark brown as the main background color and some orange/light-brown mixed in. The tortoiseshell has big rounded blotches of the lighter color, the woodgrain has smaller splotches of that color, while the thuya has swirled lines. You can readily see these differences below.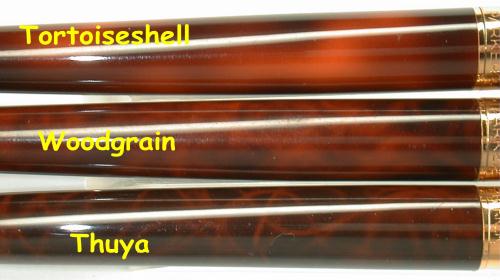 Also note how the Tortoiseshell has the lighter color patches approaching an orange hue, less so in the woodgrain whose smaller splashes lean toward orange-brown, until the Thuya replaces it with light brown color swirl lines.
.
Update of 12-15-01
Just as the sterling Godron had a special package for the Italian market, these laque 75s also had a similar package. Click the pictures below to see more.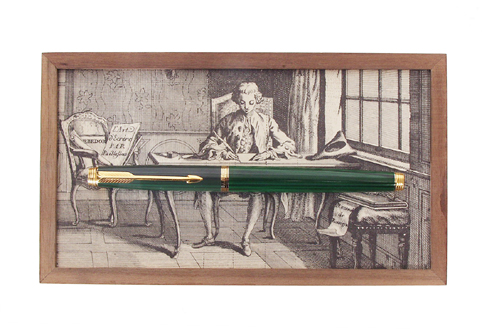 Update of 10-14-2008
A prototype laque 75 FP was found with an incredibly large band. Check it out by clicking on the image below.