iPhone/Touch App - Fuel Economy Guide 2011
Created 03-12-2009
Updated 12-31-2011
For those of you who visit this TechGear section of my website, you probably might have guessed that my interests run beyond Parker 75 pens. Indeed my January 2009 addition of the Scan Gauge device might have given a clue that I am also interested in automotive technology (who isn't and lives in the Detroit area?) and fuel economy. In these trying economic times, who isn't interested in saving $$$ on fuel costs?
This app was updated in November 2011 and the database has been extended earlier than the original 1998 to include earlier years since 1984. Thus the database now has over 30,000 unique combinations of engine size and transmissions, more than double the original 12,000 entries.
For those who have an Apple iPhone or iPod Touch, and happen to be in the market for a new vehicle to get a more fuel efficient and greener replacement and take advantage of the deals, here is a new app for your device. So you can use it as a reference as the screens show below.

NOTE: This database is local on the device so 3G or WiFi service is not needed.
Perfect when you're at the car dealer showroom! :-)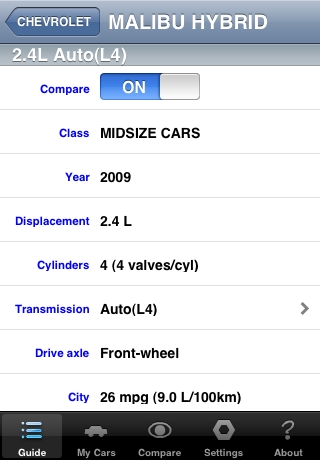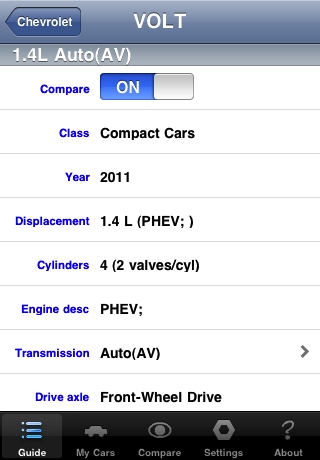 The real utility becomes apparent with its ability to compare several vehicles using your own driving patterns and local fuel prices.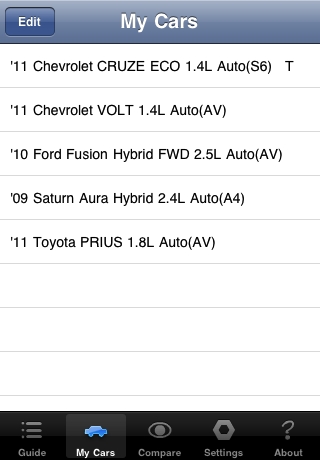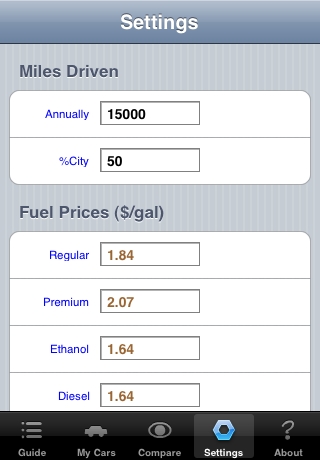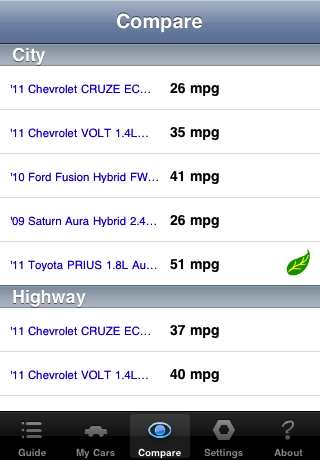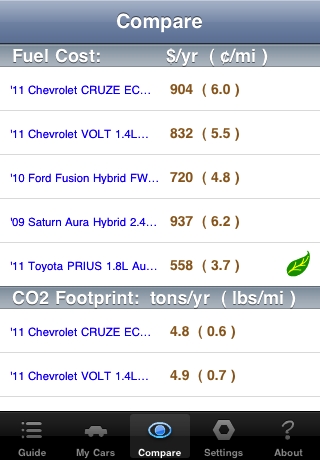 Those fuel cost and CO2 footprint figures are computed for your personal driving and using your local fuel prices. It is easy to change those settings to play what-if situations should the price of fuel skyrocket as it did in July 2008. As 2011 ends, gasoline prices has crept back up and averages around $3.50 per gallon.
Even if you are not in the market for a replacement, you may just want to compare your current vehicle fuel costs with a newer car model. Then FEG2009 is the app for you. Who knows, it may even lead you to conclude that a vehicle replacement is justified, especially to take advantage of the deals available today.
The price for this app is $0.99. Considering how it improves your vehicle buying decision to make an informed choice that is more affordable and 'green', I think it is money well-spent.
Like all such products, you can buy it from the Apple app store using iTunes either on the PC, Mac, iPhone, or iPod Touch. You can use this link to open your iTunes to the FEG2011 app.
BTW, this product is from the same folks that made the Chinese zodiac app.

With the pervasiveness of the Apple products, from the iPhone and Touch to the iPad, I am considering converting this website in part or whole into a form that can be stored locally on these devices. Thus, the material found here can be viewed without an Internet connection, just as the Fuel Economy Guide app.
Tell me what you think about a local and mobile copy of my website by sending me email. It certainly addresses my great concern for a printed book version with information that becomes outdated even at time of purchase.